POST
25 Fun Things You Can Do This Weekend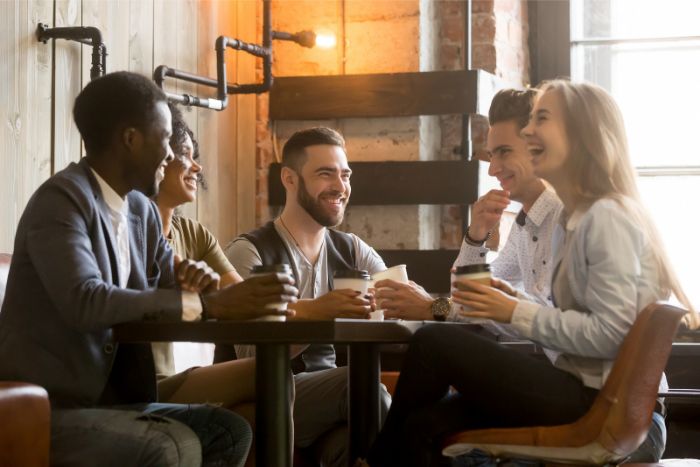 It's not often you have an entire weekend to spend time doing things you enjoy without other work obligations or commitments. When that time comes around, you best have something to do whether you want to be alone or with a group of friends and family members!
Do you finally have a free weekend and need some ideas on what to do? Then let's do it right.  Here are 25 fun things to do this weekend!

Fun Things to Do This Weekend
1. Go to a food truck park
If you're looking to enjoy some of the best food in your city, going to a food truck park with your family or friends is sure to give your taste buds a weekend to remember. You can use a service like Truckster to find food trucks near you.
2. Catch up on your favorite book
There's nothing like digging into a favorite book that's been on your reading list forever. Grab a cup of coffee or tea and dig in!
3. Do yoga
Not much is better for your mind and body than spending an hour or two this weekend doing some yoga. Sign up for a local class or pull up a yoga video online to do a routine from the comfort of your own home.
4. Go to the farmers market
The perfect way to spend your Sunday, check out your local farmers market. Enjoy the day picking out your favorite fruits and veggies for the upcoming week's meals!
5. See a movie or play
Catch the latest action flick or immerse yourself in a well-produced play. Seeing a movie or show is a great way to reset after a long week.
6. Do crafts
Have you been needing to sew a button on your favorite shirt? Spend the weekend doing some home crafts that you've been putting off!
7. Go for a long walk
If you have a weekend free of obligations, it doesn't get much better than going for a long walk in a park or forest. It's the perfect way to disconnect with the electronic world.
8. Watch the sunrise or sunset
With your busy schedule during the week, it can be tricky to set some time aside to watch the sunrise or sunset. Make an event out of it with your loved ones and enjoy the sunrise or sunset.
9. Go for a picnic
Choose the best local park and set out for a picnic with some of your favorite finger foods. Bring your pets or family to enjoy time together or make a date out of it.
10. Throw an impromptu party
No need to plan weeks in advance, a free weekend is a perfect time to call a few friends and throw an impromptu party. Who knows what will happen or who will show up!
11. Make smores in the backyard
If the weather permits, hosting a bonfire in your backyard is a great way to spend time with family and friends. Make smores and other delicious treats.
12. Grab some ice cream
There is no shame in asking for a second scoop of your favorite flavor this weekend! Try to find a local shop to support a small business.
13. Go swimming
Buy a day pool pass at your local community center and go for a dip in the pool. Even better, find a beach to play in the waves.
14. Driving Range or Bowling
Not only will you have a ton of fun; going to a driving range or bowling is a great way to get some exercise in while enjoying your time with loved ones as well.
15. Start your garden
While your garden will take more than a weekend to blossom, plant some of your favorite plants and seeds so you can enjoy fresh fruit or vegetables later in the year!
16. Bake your favorite sweets
Apple pie? Peanut butter cookies? Choose your favorite sweet and bake them to perfection. This is the perfect way to spend a rainy day.
17. Have a spa day
After a long week, there's not much better to relax and recharge than treating yourself to a spa day. You can usually find good discounts on sites like Groupon.
18. Go to a museum
Take a stroll through that local museum you've wanted to visit but have been putting off.
19. Go for a hike
Like going for a walk, a hike is a great way to get your heart pumping and offers some great views as well.
20. Take an online class
Spend the weekend taking a class on a topic you enjoy. Cooking? Calligraphy? Choose a subject that inspires you.
21. Binge your favorite TV show
Okay. You might already be planning on doing this one this weekend, but if you need to catch up on your favorite show, the weekend is a perfect time.
22. Play board games
Put your competitive skills to the test and play your favorite board game with family and friends. Avoid Monopoly if you don't want to have any drama.
23. Volunteer
Spend the weekend volunteering at your favorite local charity. You can even do something as simple as cleaning up your local park.
24. Go to a garage sale
Wake up early and go hunting for the best deals at local garage sales. Be sure to bring plenty of small bills so you can negotiate.
25. Call someone you haven't talked to in a while
Last but not least, give someone you haven't talked to in a while a call. Your high school friends, parents, or your aunt and uncle will enjoy hearing from you!