POST
6 Best Wedding Venues in Dallas
So you're looking to tie the knot? Congrats! Now it's time for the fun part- picking out the perfect dress and touring wedding venues in Dallas. Finding the venue that best suits the style of your wedding is crucial. Do you want to spend more and have everything taken care of, e.g.- catering, floral, decor, pictures, cake, etc.? Or do you want more control of the budget and the details? For this blog, we've done the research to help you narrow down some ideas of where to start with 6 beautiful and reputable Dallas wedding venues.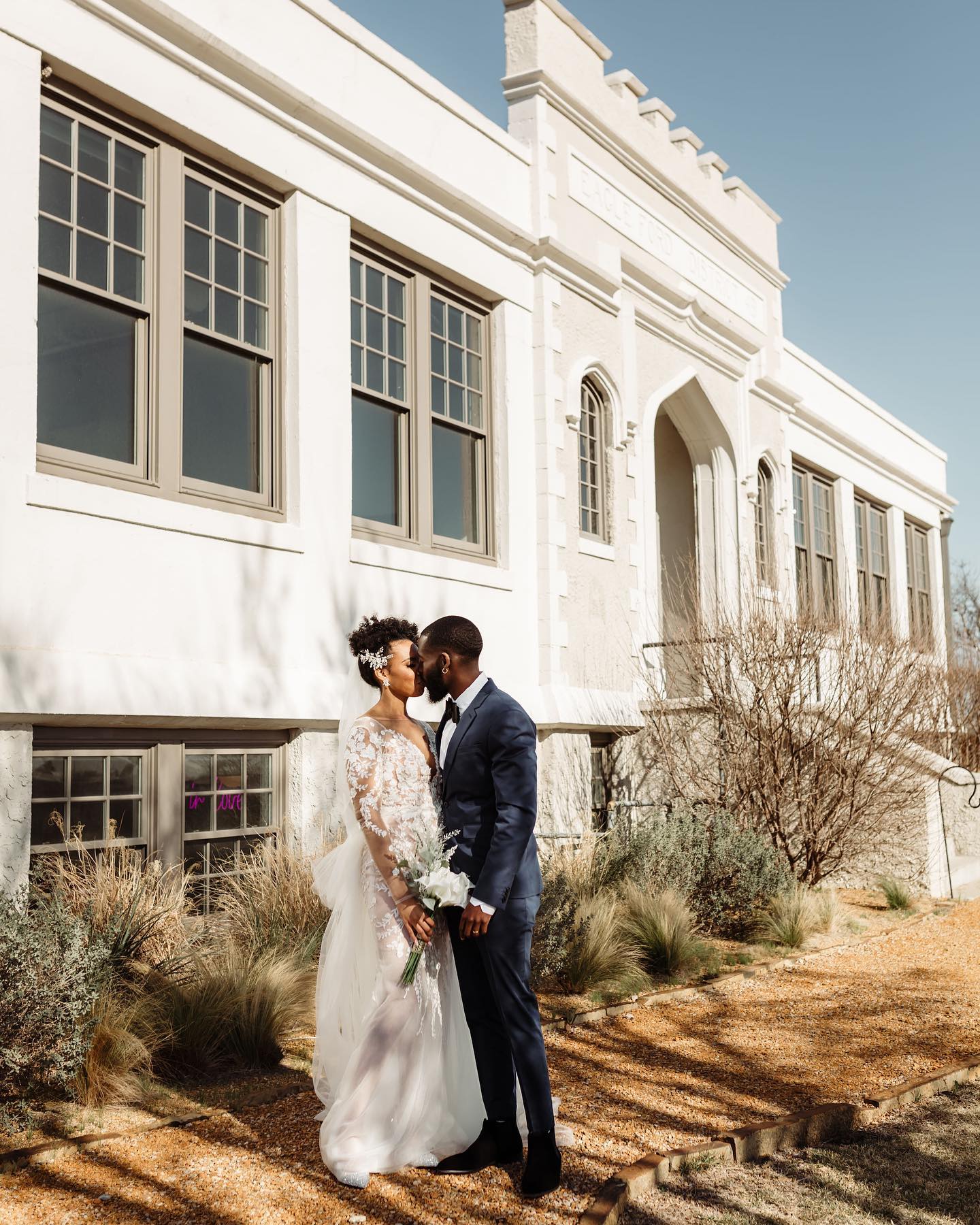 Jackie Marie Photography
First we have the Schoolhouse. This is one of the most highly rated and sought after wedding venues in Dallas. The Schoolhouse is a great option for the couple that is looking for a vintage yet elegantly sophisticated ambiance for their big day. It has many great attributes such as a beautiful exterior with an intimate courtyard to have a perfect outdoor ceremony, gorgeous interior rooms with great natural lighting if you choose to have your ceremony indoors, a reception hall that seats 130 guests, and beautiful details like original wood floors and classic architecture that help create that vintage, sophisticated feel for your wedding day. The schoolhouse also allows for outside catering (consider food trucks and mobile bars for a unique feature), bartending, and DJing so you still have control to make the decisions that will ensure your special day is perfect for you.
Located in the heart of Downtown Dallas in the Lonestar Gas Building (est. 1932), The Carlisle Room exudes class and elegance. This opulent venue boasts numerous choice awards. When witnessing the 5,500 sf art deco style location, it is clear why. With the marble walls, 17 ft ceilings, terrazzo floors, topped with a fresh modern luxury, you will feel like royalty. The Carlisle Room can accommodate 200 guests for the ceremony and 250 in the reception hall. Catering is in-house from Chef Douglas Brown and his team, providing custom menu offerings chosen by the bride and groom. The Carlisle Room takes care of details such as silverware, linens, tables and chairs, and even offers complimentary cake serving; perfect for the couple that wants to pay a little extra for luxury and convenience.
The Cliff House may be the perfect wedding venue for those who would love to get married in an adorable church, but may not already be a member of an adorable church. The venue originally started as a baptist church in the late 1890s. Today, it has been remodeled and repurposed into the beautiful church style wedding venue you see today. The Cliff House can accommodate 140 guests for ceremonial and reception services, along with a dance floor for festivities. Catering is offered through their in-house partnership with Boxwood Catering, and alcohol can be provided on your own or through the caterer. The Cliff House also allows and encourages your own floral decor, allowing you to put your own personal style and touch to the venue for your wedding day.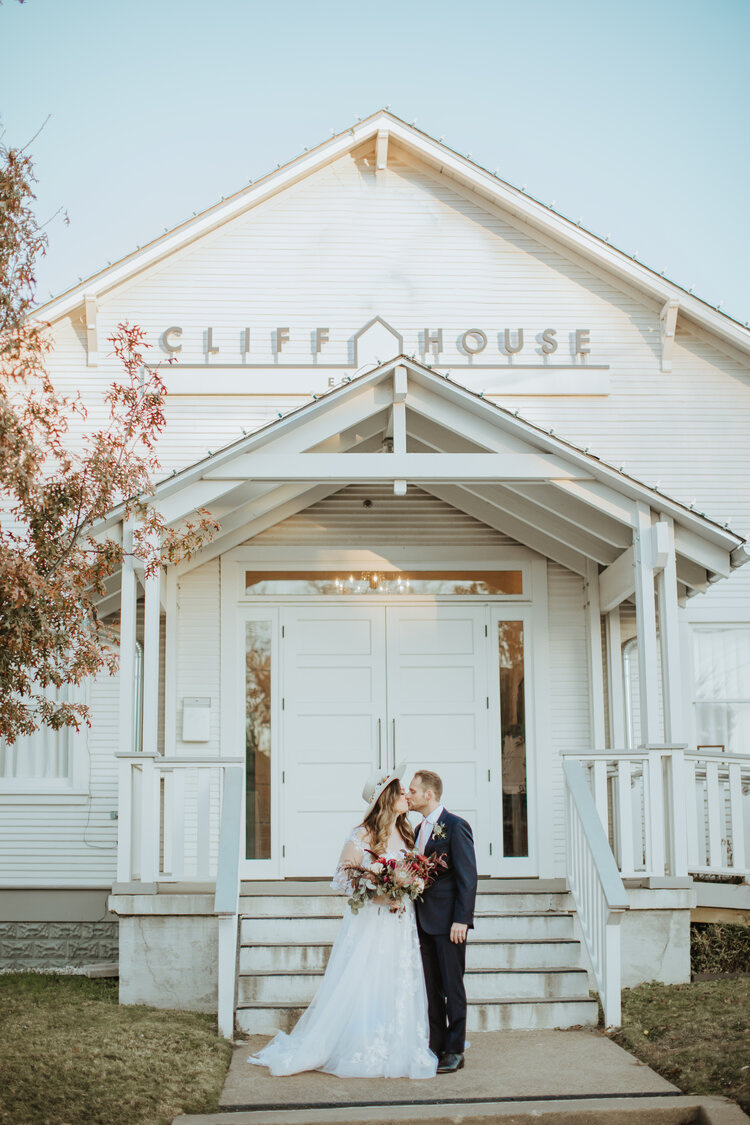 www.nbarrettphotography.com
Arlington Hall is a premier event space that has been around since 1939. It has since been expanded to host large gatherings of 500 guests, while still capturing the elegance and charm of the original venue with its hardwood floors, antique mirrors and chandeliers. Couples can decide to have their ceremony outside on the terraces, in the pavilions among the formal gardens, or inside the Hall itself. Couples are able to create the perfect space for their vision wherever they choose. Catering is in-house through Executive Chef Adam Fiscus with his team Food Glorious Food. The team offers custom menus and are nationally acclaimed culinary artisans. Arlington Hall can provide a perfect fairy tale experience right in the heart of Dallas, if you can get in.
The Texas Discovery Gardens is the perfect wedding venue for couples that want to incorporate their love for nature and the outdoors into their ceremony while keeping it classy and graceful. TXDG offers several options for ceremonies and receptions with their Grand Hall, Circular Lawn, and Grand Allee. All options provide enough space for at least 200 guests and go all the way up to 600 in the Grand Allee. The Butterfly House is also a unique addition to your event that allows guests to walk among hundreds of free flying butterflies and also produces once in a lifetime photo opportunities for the bride and groom.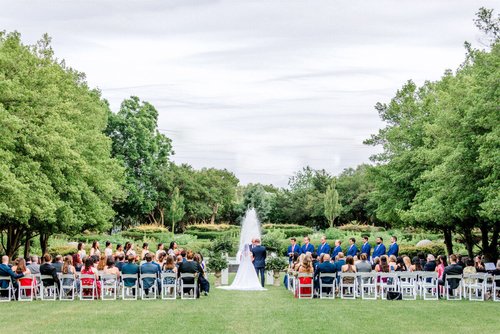 https://brittanypartain.com
For those looking for a more country style venue, The Cinnamon Barn may be the one. This beautiful newly constructed wedding venue sits on over 9 acres of land, is located just out of the city, and minutes away from Lake Lavon. The Cinnamon Barn offers a few options for spaces including the barn that is perfect for receptions or indoor ceremonies and accommodates 300 guests, an elegant outdoor patio area with bistro string lights, southern style furniture, and a movable bar, and the intimate ceremony lawn that can seat 300 guests and is surrounded by trees that yield the perfect classy outdoor ceremony opportunity. If planning an outdoor wedding concerns you because of unpredictable weather, don't worry, the Cinnamon Barn can supply large tents to ensure your special day won't get ruined by a thunderstorm. Catering, DJing, and bartending are all open and up to the discretion of the bride and groom.
These are of course only a sample of what Dallas has to offer in wedding venues. The area provides plenty of options for whatever style you are looking for. If you are wanting a luxurious and glamorous metro venue like the Carlisle Room, an outdoor nature focused venue such as the Texas Discovery Gardens, or a classy southern country style venue like the Cinnamon Barn, you will not be disappointed with your choices. Choose your style, set your budget, draft a guest list, then you are ready to shop around for the venues that fit your criteria. The details will come after that. Some venues make it easier and provide more services like in-house catering and decor. For those that allow for a more personal touch, Truckster recommends considering food truck catering. Many food trucks thrive on catering and are experts that offer custom menus that will help make your special day even more memorable.