POST
9 Unique Kansas City Wedding Venues
There's not many days that can be considered the best day of your life. Among these few days, one day usually remains a constant between the masses: your wedding day, the BIG day. There can be many stressors leading up to and on that big day, but it is important to keep in mind the reason for a wedding. Its not to impress friends and relatives or show old school mates just how fancy you've become. Its about those friends and family coming together to support you and your spouse and to express your love and devotion to each other. With that said, it is important however to find the perfect place to tie the knot as to make that day as perfect and memorable as it can be. Allow me help get you started with ideas on what style of wedding you want, and a few examples of each.
Outdoor/Country Kansas City Wedding Venues
Crestview Dairy is a 31 acre historic landmark that has been transformed into a wonderful outdoor wedding venue with a wholesome countryside quality. The site offers 4 separate locations for ceremonies and receptions to choose from, including a courtyard lawn surrounded by historic buildings, an intimate pergola amongst the woods, a large elm grove, and a lakeside shelter house and deck. Receptions can be held in their main barn or outside in a tent. Parking is close, unlimited, and free, and lodging is available onsite as well.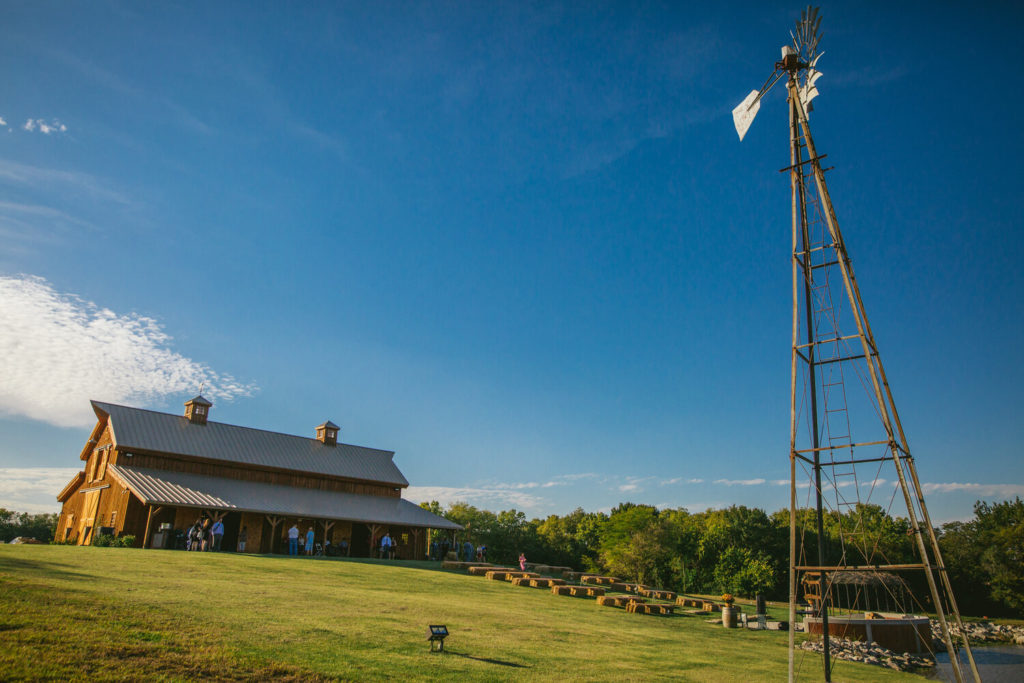 First Creek Farm
First Creek Farms is a wedding venue located just 15 minutes north of Downtown Kansas City. If you are looking for a rustic barn wedding, this may be the one. This venue is a perfect location for a country farm style wedding with its rolling hills, surrounding forest, lake, rustic (but nice) barn, and windmill to complete the aesthetic. Don't think that a rustic barn means you won't be tying the knot in style and luxury. The First Creek barn is fully equipped with everything you might expect: A/C, heating, nice bathrooms, chandelier lights, and a loft to hang out.
The Legacy at Green Hills is another great option for the couple looking for an outdoor wedding. Amenities include a farmhouse that is used for getting ready and overnight lodging if needed, a pergola for the ceremony, a patio for cocktail hour, and a pavilion for the reception. The pavilion can also serve as a ceremony site which can take the stress out of worrying about the weather. The grounds of The Legacy at Green Hills are vast and beautiful. There are plenty of great photo opportunities with 38 total acres, a 4 acre lake, and 22 acres of wildflowers.
Church Wedding Venues in Kansas City
The Hawthorne House may be perfect for those wanting the little white chapel wedding experience, but also offers so much more. They have of course the perfect little white chapel, a gazebo for pictures or a ceremony if you choose, a large indoor pavilion/event space for hosting the reception, farmhouse suites for getting ready, and 11 acres of beauty for pictures and gathering. The Hawthorne House has been doing weddings for over 24 years, and their expertise will be certain to make your big day a little easier and more stress free.
Photo by: K + H Rogg Photo
The Brim is a new Kansas City wedding venue that opened its doors in 2021 and fulfilled the dream of the lovely couple that envisioned it. The result was a gorgeous 16 acre property that accommodates a chapel for the ceremony, a separate reception hall, and plenty of beautiful surrounding landscape for festivities and photos. The Brim prides themselves on providing a premiere wedding venue at affordable prices for all to be able to have their dream wedding. So if your wedding will be budget conscious, the Brim may be the venue for you.
The Pilgrim Chapel is a venue that is perfect for couples that want to add a unique flair to their wedding. Although the Pilgrim Chapel was built in the early 1940s, its classical design and architecture are reminiscent of historic old world churches with stone walls, exposed beam ceiling, stained glass windows, and wooden pews that come together to create a fairytale ambiance. The chapel cannot provide a space for a reception, but it can accommodate around 70 guests for a ceremony, perfect for a small, intimate wedding.
Urban Wedding Venues in Kansas City
The Madrid Theatre is certainly the most unique wedding venue on this list, and will have your guests talking about it for years and you talking about it forever. The theater originally opened its doors in 1926 as a Spanish revival silent movie theater. It has since been fully restored to its prior grandeur and has been hosting fancy gatherings for over 20 years, including the most memorable and unique weddings in the city. The space allows for options for ceremonies and separate areas for receptions, and has an upstairs that is used for getting ready and provides extra space for gathering. The Madrid Theatre offers packages that include personalized planning services to ensure your big day goes flawlessly and has convenient parking for your guests.
The Grand Hall is a great option for the couple that wants pure opulence and grace on their wedding day. It is located in the heart of downtown Kansas City and is a beacon of the art deco movement, providing the most elegant of wedding venues down to every detail. The Grand Hall provides space for both the ceremony and reception and even allows for photo shoots on the 31st floor terrace overlooking the downtown KC skyline for epic newly-wed photos. Coordinators are also provided to make your day go smoothly.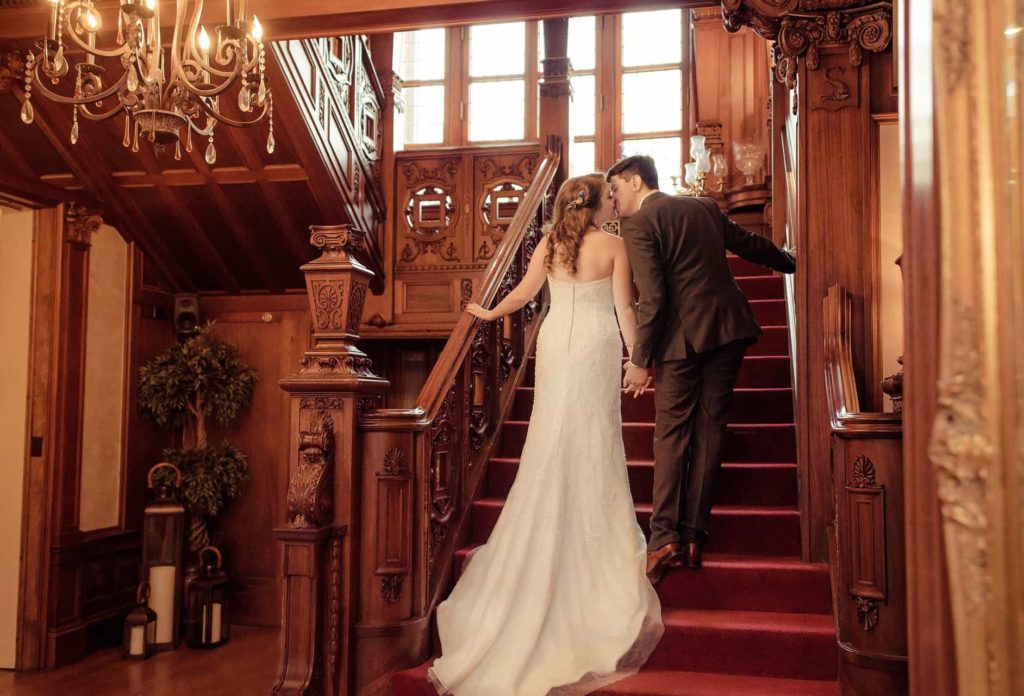 Foyer and Grand Staircase at The Loose Mansion by Jerry Wang Photography
The Loose Mansion is a stunning historic building dating from 1909. The mansion in total is over 17,000 sf and is immaculate in every detail. As you tour the building you will see chandeliers, Italian tile floors, carved mahogany molding, intricate fireplaces, beautiful staircases, and more. If you choose to have your wedding here, you will have 6 options for where to have your ceremony. Seating capacities vary from 30 to 230 for ceremonies and the reception hall can accommodate up to 400 guests. The Loose Mansion has an incredible team that will be sure to make your big day as perfect as possible, and they have award after award to prove it.
So there you have it, a place to start looking. There are of course plenty of other amazing wedding venues in Kansas City that will blow you away as well. Touring wedding venues can be one of the most fun and exciting things about planning a wedding. Remember to keep it light hearted and enjoy all of the little moments. Another part that is a blast is choosing your catering and menu. Several venues have award winning in-house chefs and catering teams that can customize the menu for exactly what you desire. Other venues allow for outside catering options which can be a lot of fun as well. I suggest, especially for laid back outdoor style weddings, to consider food trucks as caterers. Depending on the size of your wedding, you can hire a few trucks and make the food options very unique and different. Most food trucks are operated by experienced chefs that thrive on large catering events. Most importantly, don't sweat the small stuff and have fun in the planning and on the day.