How Many Items Should Be on a Food Truck Menu?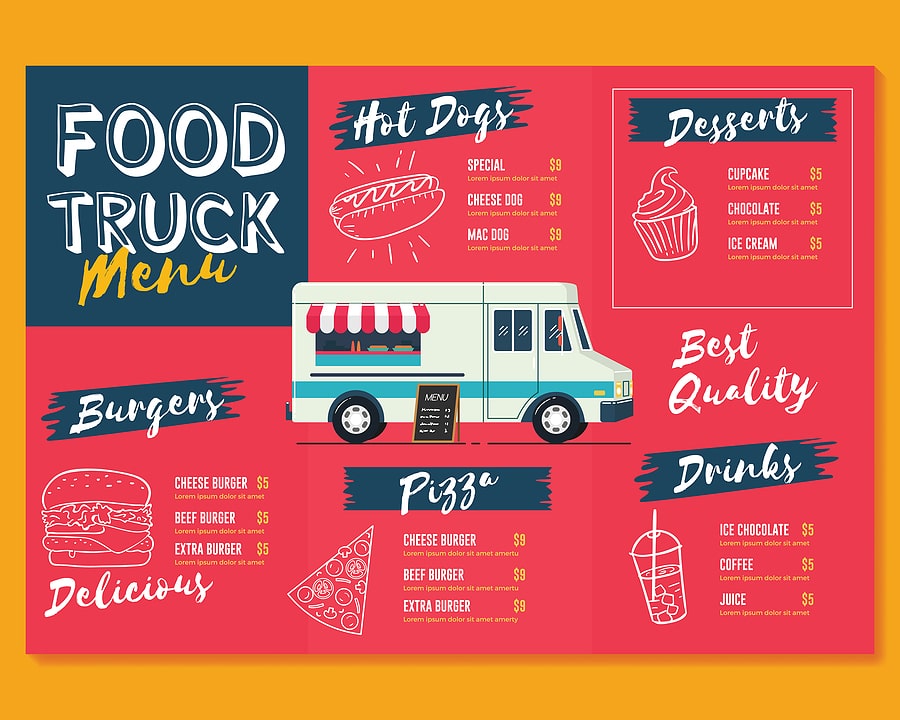 You have a dream of opening a food truck. Getting that dream off the ground requires a one-of-a-kind menu. It serves as the central component of your restaurant on wheels, setting the tone and taste for your culinary identity.
While it's tempting to flex your creativity with a lengthy menu, most food truck owners only serve 6 to 12 items. How many items should be on your food truck menu based on your business model? Here are the answers you need to make an exciting and economically viable menu.
Determine the Central Menu Items
The first step to create the perfect menu involves picking out a few central items. These dishes should be the staples of your food truck and inspire people to come back again. If you haven't done so already, do some market research to ensure your food truck idea differentiates your business from other vendors.
The central dishes should revolve around a single concept. Serve items with a unified theme, like sandwiches or French food. For instance, your truck may combine both ideas and create a menu with raclette grilled cheese, croque madame, jambon-beurre, and pan bagnat.
Consider Preparation Time
You can have all the delectable dishes you want, but a successful food truck menu demands practicality. Your best-selling raclette grilled cheese may earn $12 per transaction, but it also takes 20 minutes to make. A more straightforward item, like jambon-beurre, containing a baguette, ham, and butter, earns $8 but takes a fraction of the time.
Increased preparation time doesn't mean you should forsake a raclette grilled cheese. It requires a highly efficient kitchen environment for it to be feasible. Unless you're trying to compete with established fine-dining restaurants, you should err on the side of caution and keep dishes simple. Shorter preparation and cooking times will save you time and money during a lunch rush.
Be Realistic
A healthy dose of realism will give your food truck its best chance at success. If you only operate during lunchtime, serving 20 items doesn't make sense. Even if you're serving something as simple as hotdogs and brats, making things less complicated remains in your best interest.
You and your associates should streamline your menu to make service faster. If you're serving hotdogs and brats, keep the sides to only two options, like French fries and grilled corn. The economic approach allows you to reduce waste and turnaround times.
Creating a Menu
Creating a physical menu is an art form. Subtle psychological tricks can ensure you get attention from passersby. Here are a couple of ways to make the most of your display space:
Remove dollar signs from the price.
Use prices that end in .95 instead of .99.
Be descriptive with your food. Don't write "French fries." Write "Freshly sliced Idaho potatoes, double-fried in duck fat and seasoned with chives and sea salt."
Avoid creating columns.
Put the central menu items toward the top.
Create brackets around the same dish in two different sizes.
Find Out What Works Best for You
No hard and fast rules exist for picking the number of items for your menu. While many food trucks serve 6 to 12 dishes, you should find a number that ensures quality over quantity. Keep preparation times and logistical considerations in mind as you create your menu.
Don't reinvent the wheel when deciding how many items should be on a food truck menu. Check out our Food Trucks tab for mobile restaurants across the country. You can see complete menus from other vendors and how many dishes they're offering. And for any new food truck owner, don't forget to sign up as a Truckster Vendor, create a profile, show your location, and see the hungry customers roll up to your truck!
If you are not yet a food truck owner and thinking of taking the plunge, check out our Food Truck Resources Page to see how Truckster can get you started on your own food truck success story!